Stanimir Stoilov: "We want to play the first number: control the ball, attack and create chances''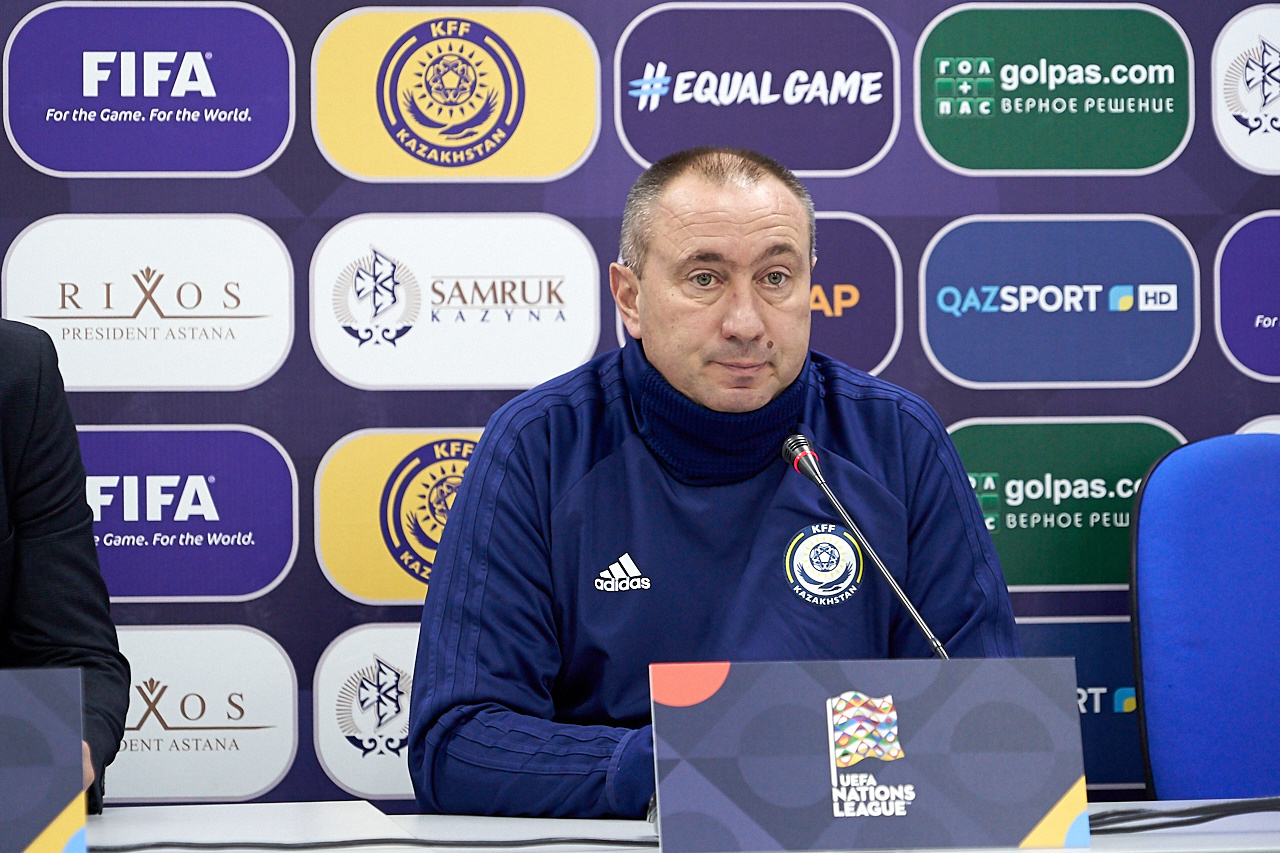 - After the away match with Latvia (1:1), what can you say about the weak points of the rivals? What tactical changes will be in our team?
- First, I will say about football players. Unfortunately, we have changes in the squad. Evgeny Postnikov and Yan Vorogovsky will not be able to take the field due to the injuries. Dmitry Shomko is with us now, but the situation is not still clear. Erkebulan Seidakhmet also got injury at yesterday trainning session. It is a pity, as it will take about three months for recovery. He needs a surgery and tomorrow he is going to Germany. So, we have to replace about 4-5 main players. We will consider various options. Yuriy Pertsuha, Oralkhan Omirtayev and Ivan Antipov, who were in reserve, have been also recalled.
As for the rivals, I had time to analyze the first game. Latvia surprised me with how well they had combined and played aggressively. The team coached under the new leader has grown. The results are not the best, but they play good football.
There was also a problem after the game with Andorra that Logvinenko, Shchetkin and Shomko did not play. I will see how this situation has changed. We want to play the first number: control the ball, attack and create chances. We should develop our style.
- The Kazakhstan national team has already had the situation when there were many young players, but did not play. Are there any real prospects for today's youth?
- It is true that 23 players are enough. Only 14 will have a chance to play. I will try to make a few substitutions in the next two games, so that the players will have a chance to prove their skills. We need competition in a goalkeeper position. Many of the young players have already got their chance - Seidakhmet, Zainutdinov, Turysbek. Every player has to deserve his place in the squad. This process is very interesting and dangerous. They should understand that if they have received a call, but failed to do their besr, then they're still not ready. We will not give gifts to anyone. Even in clubs, many of them do not play at the level that they can.
- Who will defend the goals of the Kazakhstan national team in the match with Latvia?
- Nenad Eric will definitely play in the first half. Not sure about the second half.
- For six months under your leadership, what have improved in our team?
- I can not say that the team made a huge step forward, but the results were different. From the first days we began to raise our level, made it more European. We started to play better, both in attack and defense. There were problems in the summer when the national team players didn't have match practice in their clubs. This is reflected in the results of the National team. Each player must fight for his place. They had a physical and emotional decline. The summer season of the past season was the most difficult for us. I think that the content of some matches contradicted their results. If you want to achieve something more, you need to develop in all directions. We try to do it.