Kazakhstan - Croatia Futsal Rivalry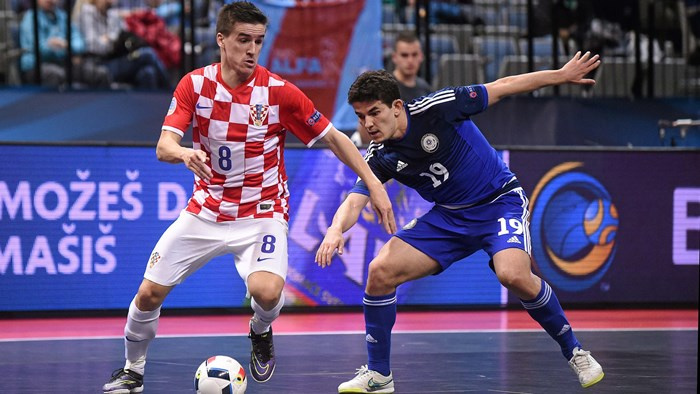 The first match between the national teams of Kazakhstan and Croatia was the European Championship qualifier in February 2007. The match took place in Split in Croatia. The hosts managed to take the lead from the first minutes. However, the defense of our team, headed by Boris Glushkov, played well. As a result, our player Yuri Butrin, scored the first goal.
A few minutes later the rivals' player Barusevich, equalized the score - 1:1.
In the second half, the players of the Croatian team, Banich and Simurin, bagged the brace. The result of the match - 5:1.
Croatia vs Kazakhstan - 5:1 (1:1)
Goals: Barusevich 17, Banich 23, 38, Simurin 27, 35 - Butrin 12.
23.02.2007. Split, Croatia. SC 'Grip'.
The next match took place after almost 10 years - the teams played in the final stage of the European Championship 2016.
In the second tour of the group round, Kazakhstan beat Croatia with 4:2. The match took place in Belgrade (Serbia).
In the 6th minute, Douglas opened the scoring. Croats responded immediately - Matoshevich equalized the score after a minute. Following Suleimenov again increased the advantage of our team - 2:1. It the 17th minute, Zhamankulov scored a goal in the locker room.
In the 27th minute, of the second half Zhamankulov scored. The Croats were able to reduce the score when Soton scored in the 32nd minute.
Kazakhstan won with the score - 4:2.
Kazakhstan vs Croatia - 4:2 (3:1)
Goals: Douglas 6, Suleimenov 8, Zhamankulov 17, 27 - Matoshevich 7, Soton 32.
06.02.2016. Belgrade, Serbia. SC 'Belgrade Arena'.