Unfortunate Draw In Riga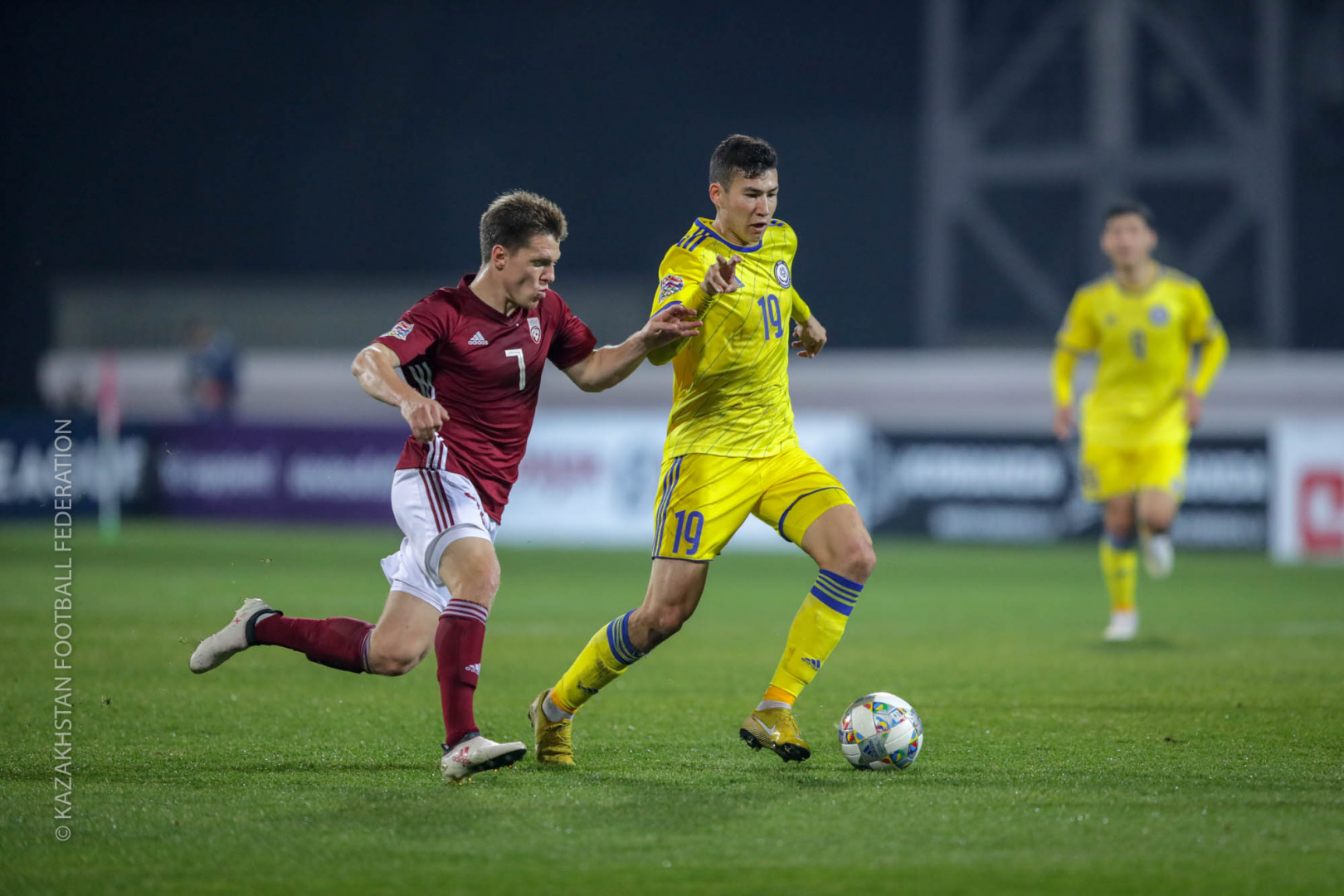 From the first minutes the home team tried to take the lead in possession the ball. Several times, the players of the Latvia national team took a corner, but those chances were not dangerous for our team.
In the 18th minute, after a key pass of the Kazakhstan team, Shomko made an accurate pass to the rivals' penalty area and Baktiyar Zainutdinov managed to score the first goal. Kazakhstan took the lead.
It the 40th minute, Latvia leveled the score. After a free-kick, Arthur Karashauks easily put it in the back of the net. The score was 1:1.
The second half began with a dangerous chance for Latvia. The defender Evgeny Postnikov had a good chance to score, but failed.
In the middle of the second half, Abzal Beisebekov also had a chance to score, however also failed, the goalkeeper of the rivals Vanin played well in that episode.
At the end of the match, the substitute debutant of the national team Maxim Fedin had an excellent chance to score the second goal, but Vanin managed to save his team.
Latvia vs Kazakhstan - 1:1 (1:1)
Goals: Karashausk 40 - Zainutdinov 18
Yellow cards: Shabala 89 - Kuat 39, Beisebekov 43, Seidakhmet 77
Kazakhstan: Eric (g), Beisebekov, Postnikov, Malyi, Shomko (c), Zhukov, Islamkhan (Fedin 75), Kuat, Zainutdinov (Seidakhmet 54), Murtazaev (Turysbek 82), Shchotkin
Reserve: Plotnikov (g), Nepogodov (g), Logvinenko, Alip, Suyumbayev, Sokolenko, Vorogovsky, Paragulgov, Narzildaev.
Head Coach - Stanimir Stoilov
Latvia: Vanin (g) (c), Maksimenko, Dubra, Rugins (Cuganik 66), Shabala, Karashausk (Gutkovsky 73), Isaev (Fertov 28), Raquel, Lukyanov, Savalnieks, Yagodinsky
Reserve: Ikstens (g), Steinbor (g), Freimanis, Soloviev, Kurakin, D. Ikaunieks, Tarasov, Oshs, Zhulev.
Head coach - Mixu Paatelainen.
Referees: Haral Lehner, Andreas Heindreich, Maximilian Kolbich (all - Austria)
13.10.2018 Riga, Latvia. Stadium "Daugava". 4878 viewers.