Kazakhstan Loses To Georgia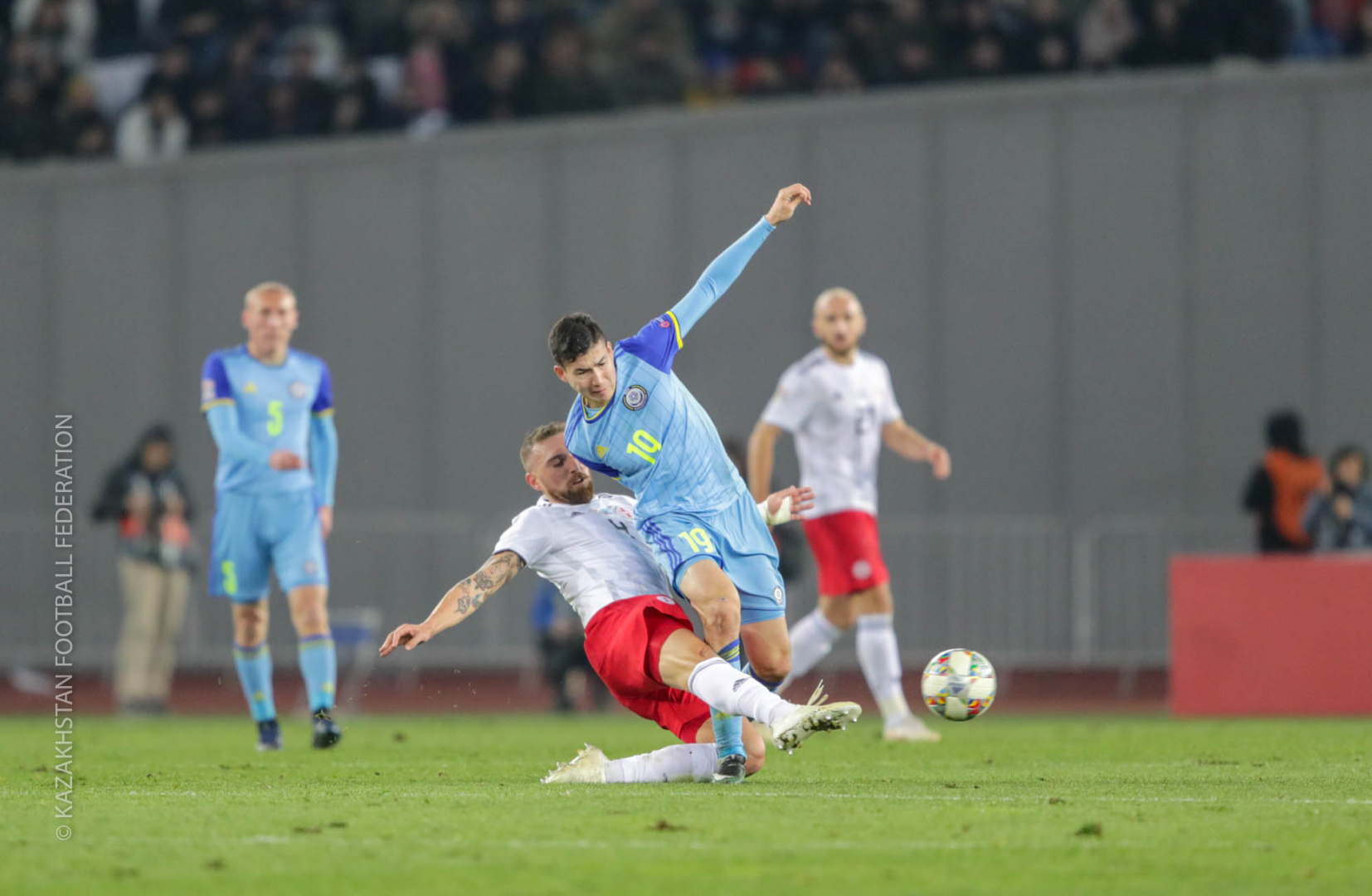 The hosts took the lead from the first minutes.
It the 15th minute, the Kazakhstan national team earned a corner. Serhiy Malyi shot on goal, but the ball flew higher.
In the 28th minute our players created a good chance. Muzhikov passed to Murtazaev, who was one on one with goalkeeper Loria, but an experienced Georgian goalkeeper saved his team.
The first half ended with 0-0.
In the 48th minute, the Georgian national team could have scored a set play goal. But Guram Kashiya failed to score.
In the 59th minute, the rivals scored a goal. Chakvetadze passed to Merebashvili, who put it into the back of the net.
In the 73rd minute, Kazakhstan earned a free kick. Logvinenko head the ball, but it flew above the goal.
In the 84th minute, the hosts scored the second goal.
At the end of the match, Oralkhan Omirtaev scored the only one goal for the Kazakhstan national team.
Kazakhstan national team had a good match, despite the result. The young structure of the Kazakhstan team adequately represented our country in the struggle with the leader and the winner of the group - the Georgian team.
Georgia 2:1 Kazakhstan
Goals: George Merebashvili 59, George Chakvetadze 84 - Oralkhan Omirtaev 90
Yellow cards: Serikzhan Muzhikov 45+1, Gafurzhan Suyumbayev 90+3
Georgia: Georgy Loria (gk) - Otar Kakabadze (David Khocholava 86), Guram Kashia, Solomon Kverkvelia, Nika Kvekveskiri, Jaba Kankava (c), Valery Kazaishvili, George Chakvetadze (George Aburjania 90+2), George Merebashvili, Valerian Gvaliya ( Nika Kacharava 74), Lasha Dvali.
Reserve: Roin Kvaskhvadze (gk), Lazare Kupatadze (gk), Vladimir Dvalishvili, Vakhtang Chanturishvili, Jemal Tabidze, Luka Zarandia, Georgi Kharaishvili.
Head coach - Vladimir Weiss
Kazakhstan: Dmitro Nepogodov (gk) - Gafurzhan Suyumbayev, Serhiy Malyi, Yury Logvinenko (c), Abzal Beysebekov, Islambek Kuat, Serikzhan Muzhikov, Baktiyar Zaynutdinov, Roman Murtazaev (Oralkhan Omirtayev 89), Maksim Fedin (Bauyrzhan Tursynbek), Aleksey Shotkin (Yuri Pertsuh 74).
Reserve: Vladimir Plotnikov (gk), Marcel Islamkulov (gk) - Dmitry Miroshnichenko, Aleksander Marochkin, Temirlan Erlanov, Duman Narzildaev.
Head coach - Stanimir Stoilov.
Referees: Tiago Martins, Luis Campos, Ricardo Santos, Hugu Miguel, João Capela.
19.11.2018 Tbilisi, Georgia. Stadium "Dynamo Arena"