Kazakhstan Women's Team Suffer 0-3 Loss to France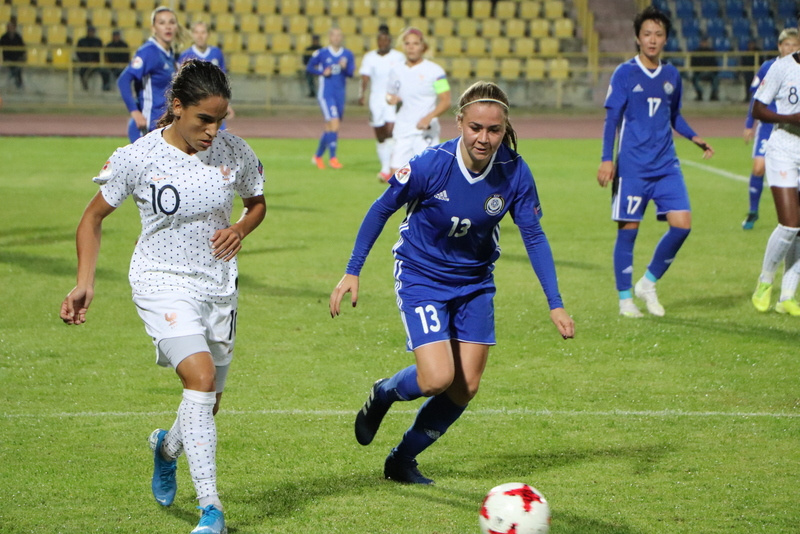 In the 58th minute of the second half, Valerie Gauvin (France) scored the first goal, soon Eugenie Le Sommer doubled the lead. The substitute Marie Antoinette Katoto score the third goal for the women's team of France - 0-3.
Kazakhstan (W) - France (W) - 0:3 (0:0)
Goals: Gauvin 58, Le Sommer 70, Katoto 89.
Yellow cards: Vlassova 75
Kazakhstan: Zheleznyak (GK), Kozhakhmet (Demidova 74), Khayrulina, Aitymova, Nurusheva (Vyldanova 66), Karibayeva, Bortnikova (Turlybekova 90+1), Babshuk, Myasnikova (C), Zhumabaikyzy, Vlassova.
Subs: Sandalova (GK), Ismailova (GK), Demidova, Vyldanova, Bekpenbetova, Satler, Turlybekova.
Head coach - Raziia Nurkenova.
France: Bouhaddi (GK), Renard, Torrent, Karchaoui, Geyoro, Le Sommer, Majri (Katoto 68), Diani (D. Cascarino 61), Gauvin (Assayi 83), Bilbault, M'Bock Bathy.
Subs: Durand (GK), Peyraud-Magnin (GK), De Almeida, Tounkara, Clermaron, Dali, Thiney, Debever, Morroni.
Head coach - Corinne Diacre
Referees: Laura Rapp (SWE), Julia Magnusson (SWE), Jilan Taher (SWE), Sara Persson (SWE).
08/10/2019. Shymkent. Kazhimukan Munaytpasov, Shymkent. 1193 viewers.