Kazakhstan National Team Defeats Andorra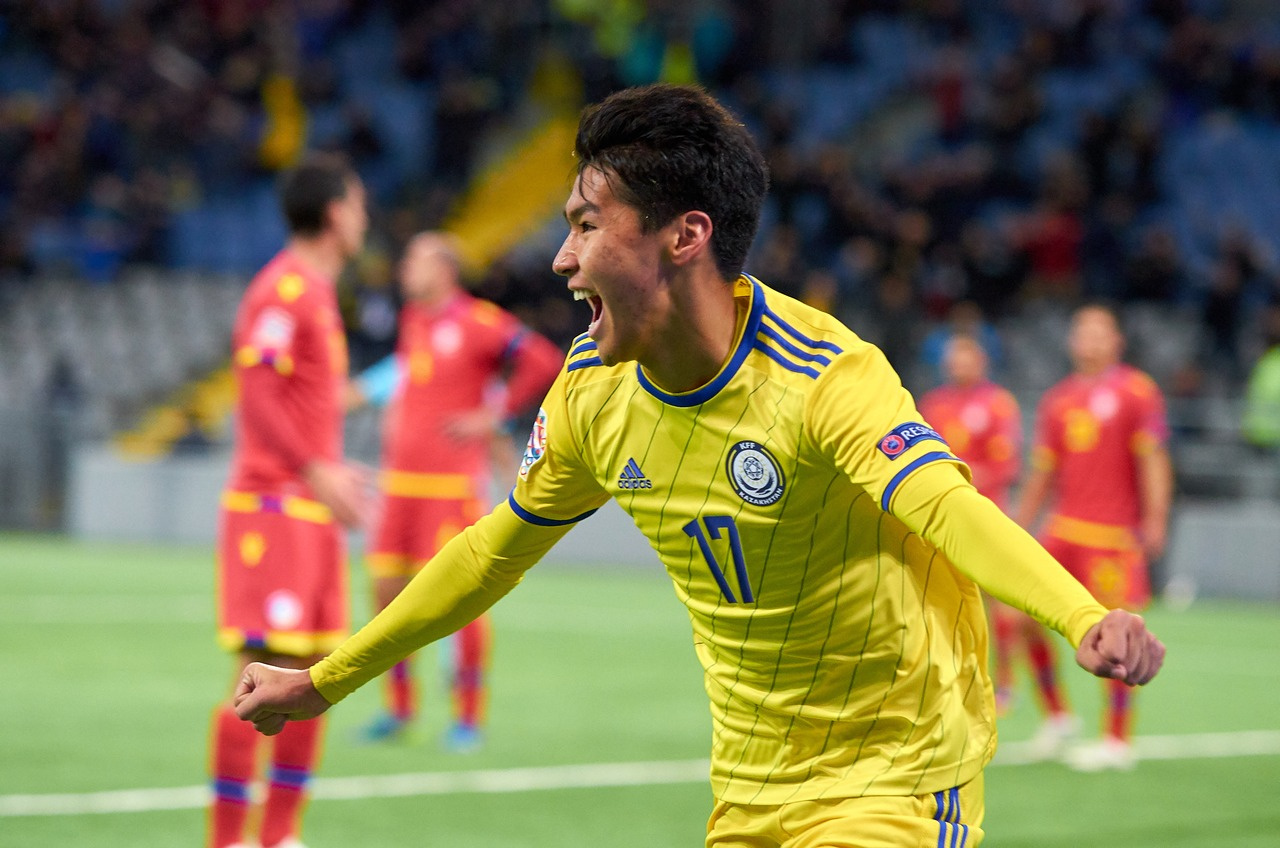 The match started with confident attacks of the Kazakhstan team. The guests also tried to create chances. The defender of Andorra could open the scoring after a pass of Cervos, but missed the goal.
In the 21st minute, the hosts attacked through the left side. Islamkhan passed to Seidakhmet, who managed to put it in the back of the net. The scoring was open - 1:0.
In the 39th minute, another one attack of the Kazakhstan team. This time Erkebulan Seidakhmet gave a pass to Bauyrzhan Turysbek, who scored the second goal 2:0.
At the added time, Yury Logvinenko had a chance to score, but his header got exactly in the hands of the rivals' goalkeeper.
In the 65th minute of the second half, Andorra's goalkeeper Josep Gomez scored an own goal 3:0.
After a moment, the home team took the free kick. Turysbek kicked, but the ball again got into the hands of the rivals' goalkeeper.
It the 74th minute, Suyumbayev successfully passed into the penalty area, where the header of Roman Murtazaev scored his fourth goal in that match.
The result of the match - 4:0, - Kazakhstan won a convincing victory!
Kazakhstan vs Andorra - 4:0 (2:0)
Goals: Erkebulan Seidahmet 21, Bauyrzhan Turysbek 39, Josep Gomez own goal 61, Roman Murtazaev 74.
Yellow cards: Jordi Alaes 63, 64, Mark Rebes 73
Removal: Jordi Alaes 64
Kazakhstan: Nenad Eric (g), Gafurzhan Suyumbayev Yan Vorogovsky 82), Yevgeny Postnikov, Yuri Logvinenko, Abzal Beysebekov, Georgy Zhukov, Bauyrzhan Islamkhan (c), Serikzhan Muzhikov, Baktier Zaynutdinov (Roman Murtazaev 70), Bauyrzhan Turysbek
Reserve: Vladimir Plotnikov (g), Dmitro Nepogodov (g) - Sergey Maly, Nuraly Alip, Dmitry Shomko, Alexander Sokolenko, Magamed Paragulgov, Duman Narzildaev, Alexey Shchotkin
Head coach - Stanimir Stoilov.
Andorra: Josep Gomez (g), Marc Vales (Sergi Moreno 79), Marc Rebes, Ildefons Lima (c), Marc Puyol (Marc Ferré 89), Jordi Alaez, Moises San Nicolas, Yoan Cervos, Jesus Rubio (Marc Garcia 84) , Max Llovera, Victor Rodriguez
Reserve: Manuel Pires (g), Ferran Paul (g), Emily Garcia, Julie Sanchez, Louis Clemente, Jordi Rubio
Head Coach - Koldo Alveres
Referees: Sergey Boiko, Sergey Becker, Alexander Voytyuk, Evgeny Aranovsky, Anatoly Abdula (all - Ukraine)
16.10.2018. Astana. 19,854 spectators.