''Kairat'' Wins 2018 Kazakhstan Super Cup!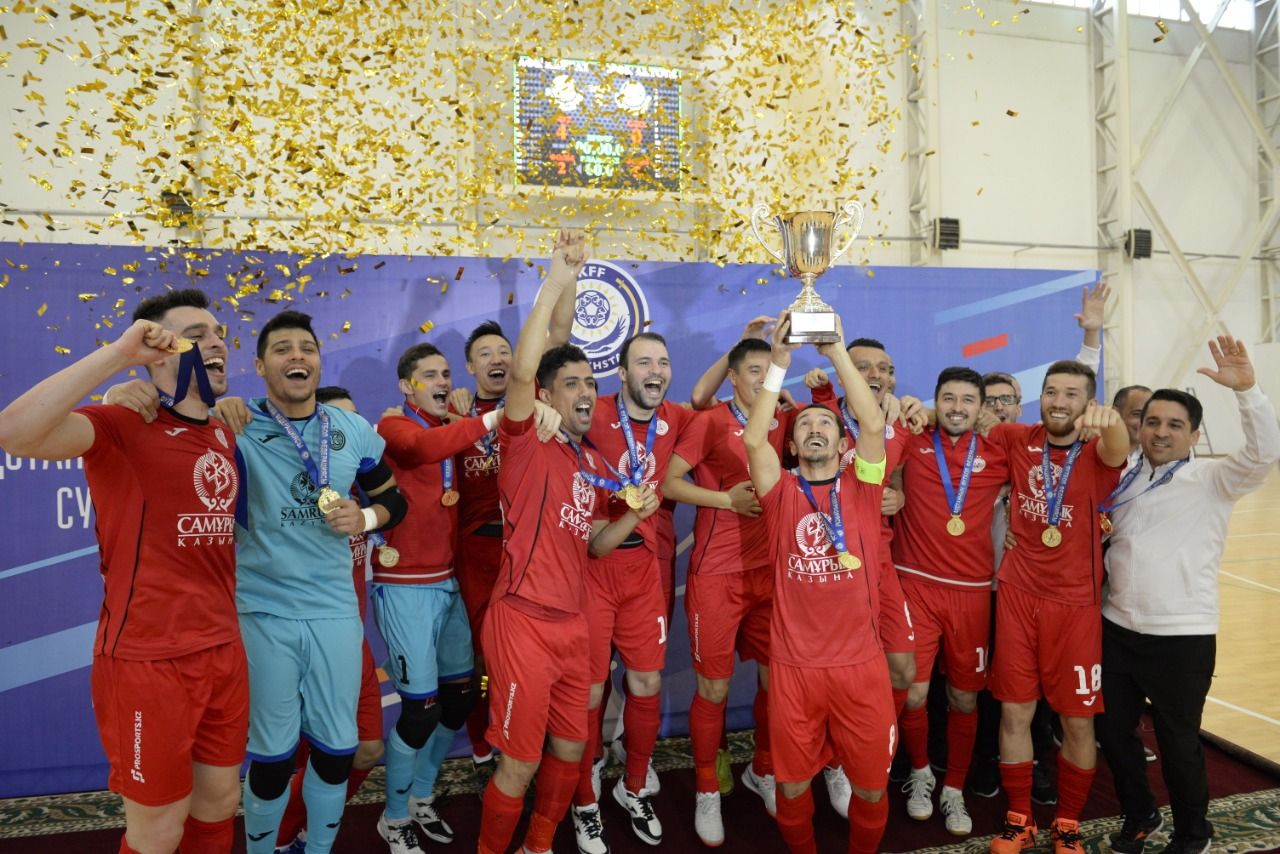 Almost from the first minutes, the champions of Kazakhstan - the players of "Kairat" took the lead. Having made several attacks, Dauren Nurgozhin managed to open the scoring.
''Aktobe'' players tried to create dangerous attacks, but those attempts ended with either losing the ball or good play of the goalkeeper.
At the start of the second half, ''Kairat'' managed to double the lead, Dauren Tursagulov scored the second goal. Following ''Aktobe'' made another one mistake - 3:0 in favor of ''Kairat''.
Toward the close of the second half, "Aktobe" intensified. However, it did not give a result. Having played another combination, the teams went over to the side of the Aktobe club. Serik Zhamankulov from the middle distance put it in the back of the net 4:0.
''Kairat'' won the Super Cup with 4:0.
Askar Abildayev, Director of the Futsal Department of the Kazakhstan Football Federation took part in the awarding ceremony after the match.
"Kairat" (Almaty) vs "Aktobe" (Aktobe) - 4:0
Goals: Nurgozhin 4, Tursagulov 24, Kulbaev (own goal 27), Zhamankulov 37
AFK Kairat: Higuita (g), Umeshev (g), Edson, Tynan, Tayebi, Orazov, Rangel, Suleimenov (c), Zhamankulov, Nurgozhin, Esenamanov, Tursagulov, Lennon, Chernomordov.
Head coach - Ricardo Kaka.
MFC Aktobe: Bayraliyev (g), Alin, Valenko, Gray, Klinov, Eric, Imanalin (c), Madiyarov, Turegazin, Akbalikov, Karagulov, Kulbaev, Sorokin, Nulet.
Head coach - Oleg Solodovnik
Referees: Talgat Kosmukhambetov, Aslan Galayev (both - Kostanay), Valery Salimov, TurekhanTursumbayev (both - Astana).
14.10.2018 Schuchinsk. SC "Zhaksy". 450 spectators.