Kazakhstan (W) 0:3 Serbia (W)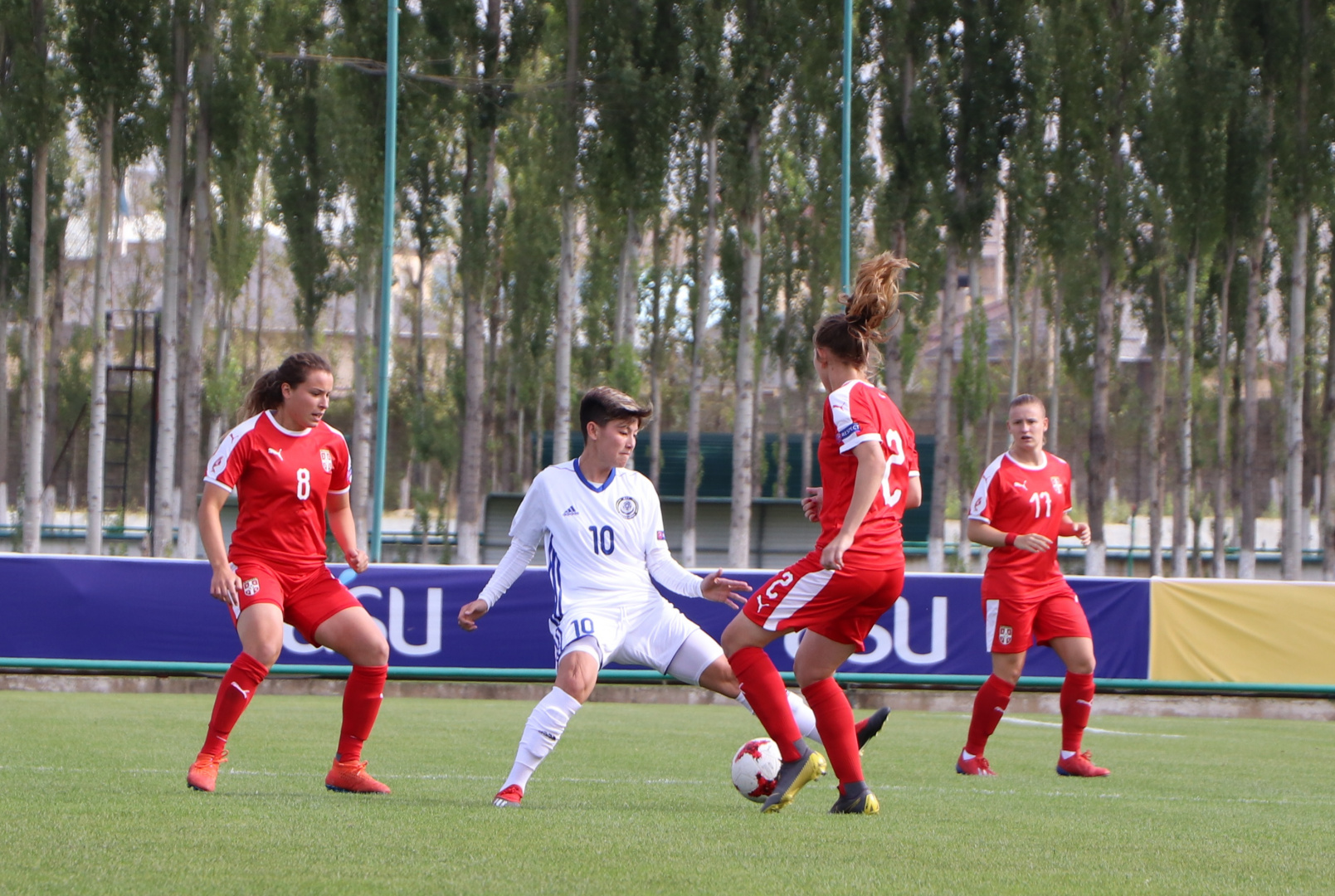 In the first half, the Kazakhstani team controlled the game, playing with confidence against such strong rival and dangerously counterattacked, however failed to score.
In the second half, the opponent rebuilt the game and increased the pressure with goals of Oksana Zheleznyak. In the 58th minute of the match, the defenders of the Kazakhstan national team missed the ball and the Serbian player, Milisa Miyatovich, managed to score the first goal.
In the 81st minute, the Serbian player, Allegra Polyak, scored the second goal. Three minutes later, the substitute Tiyana Matic scored the 3rd goal for the Serbia national team.
Kazakhstan W - Serbia W - 0:3 (0:0)
Goals: Milisa Mijatovic 58, Allegra Poljak 81, Tiyana Matich 84
Yellow cards: Adilya Vyldanova 18, Ekaterina Babshuk 69, Xenia Khayrulina 89.
Kazakhstan W: Zheleznyak (gk), Kozhakhmet, Khairullina, Gaistenova, Kulmagambetova (Zhumabaikyzy 87), Kirgizbayeva (c), (Vlassova 65), Vyldanova, Karibayeva, Babashuk, Myasnikova, Aitymova
Subs: Sandalova, Burdakova, Demidova, Nurusheva, Burova, Bekpenbet, Turlybekova.
Head coach - Raziia Nurkenova.
Serbia W: Kostic (gk), Lazarevic (Matic 25), Stefanovic (Pavlovic), Ilic, Slovic (c), Damjanovic, Mijatovic, Blagojevic, Vukovic (Filipovic 88), Cankovic, Poljak.
Subs: Cetinja, Stojanovic, Krstic, Bradic, Jankovic, Plavsic.
Head coach - Predrag Grozdanovic.
Referees: Ionela Alina Pesu, Elena Mihaela Tepusa, Daniela Constantinescu (all - Romania).
01.09,2019. Namyz Stadium, Shymkent