'Astana' Wins Kazakhstan Super Cup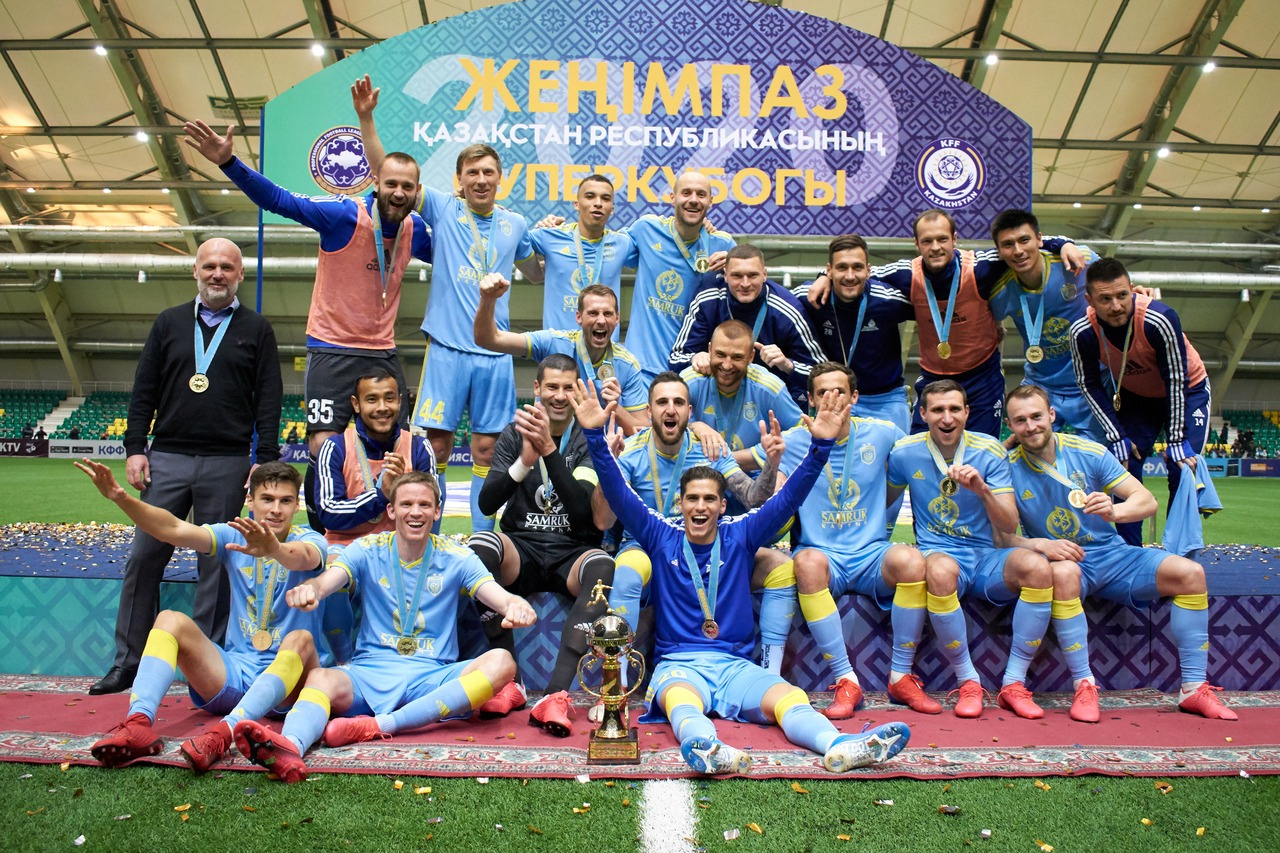 The 2020 football season has started with a fascinating match between the champion of the country, FC 'Astana' and the winner of the 2019 Kazakhstan Cup, FC 'Kaysar'.
The Astana striker, Pieros Sotiriu, scored the only and victorious goal in the 40th minute. Both teams had chances to score more goals, but the scoring 1-0 remained until the final whistle.
The President of the Kazakhstan Football Federation, Adilbek Jaxybekov, KFF General Secretary, Azamat Aitkhozhin, PFLK President, Olzhas Abrayev, and Akim of the Kostanay region, Archimedes Mukhambetov, attended the award ceremony.
Astana - Kaysar 1:0 (1:0)
Goal: Sotiriu Pieros, 40
Yellow cards: Shomko 10, Graf 13, Bitang 29, Postnikov 37, Sotiriu 53
Astana: Eric (C), Beysebekov, Maevski, Maliy, Postnikov, Sigurionsson, Sotiriu (Schetkin 90+2), Tomin, Shomko, Ebong (Logvinenko 77), Barsegyan (Dorin 69)
Subs: Nepogodov, Pavlov, Zhalmukan, Pertsukh, Rukavina, Shimunovich
Kaysar: Islamkulov, Bitang (Kolev 75), Graf, Amirseitov, Kairov, Lobzhanidze, Marochkin, Narzildaev, Peshich, Reginaldo (Fortes 60), Tagybergen (C), Paragulgov 89.
Subs: Nurymzhan, Akhmetov, Gurman, Kalmuratov, Abzalov, Shumskih
Referees: Anatoly Vishnichenko (Kostanay), Sergey Kalachev (Atyrau), Denis Vinogradov (Petropavlovsk).
Assistant referees: Aidyn Rakhimbayev (Almaty), Alexander Gauser (Petropavlovsk).
Fourth official: Maxim Panin (Kostanay).
29/02/2020, Kostanay, Tobyl Arena. 2900 viewers.