Pre-match press conference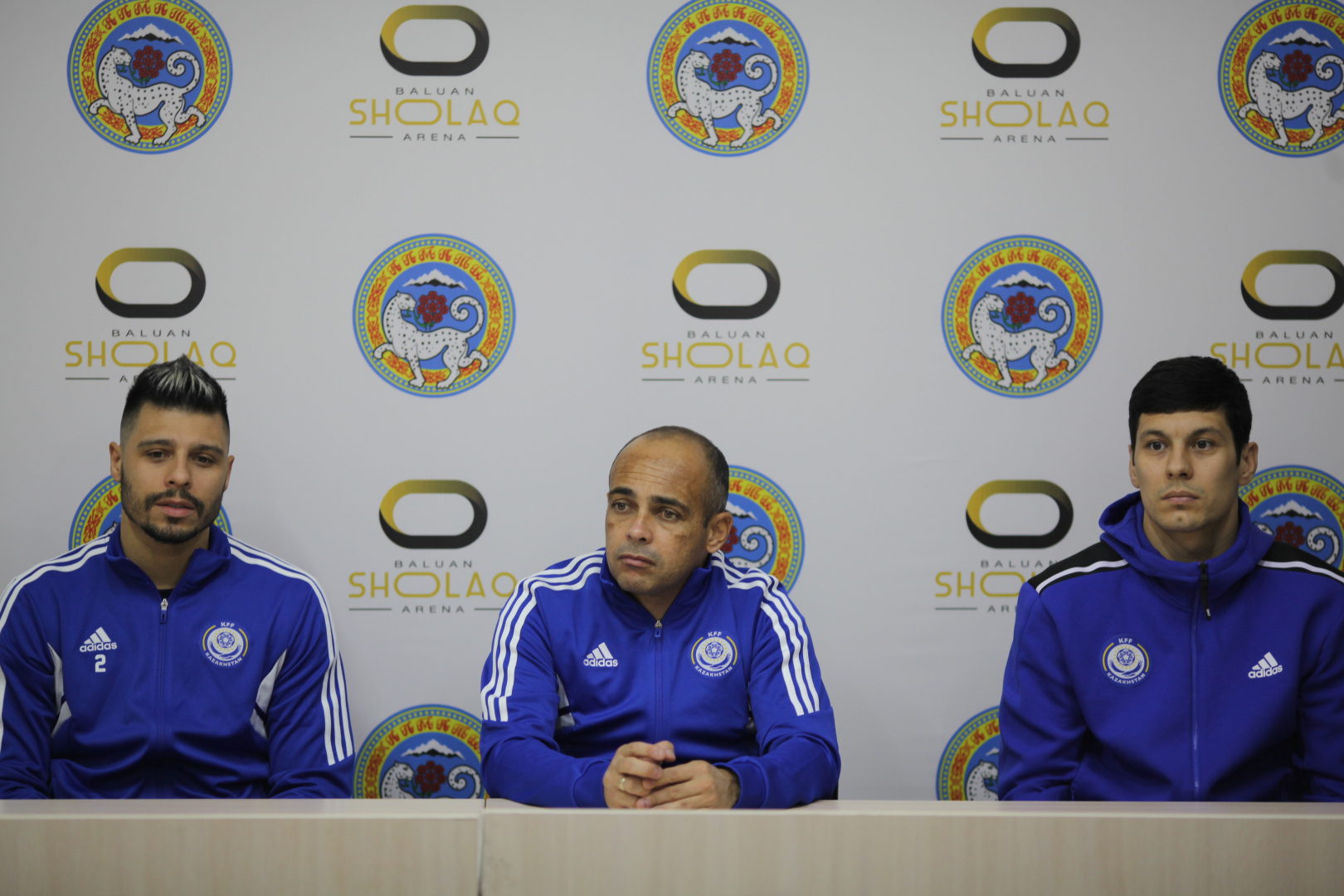 Kazakhstan futsal coach Ricardo Kaka:
- We had only one day to ger ready for the match. It was yesterday and we workout today. Tomorrow before the game we want to have a tactical training because there are only four days in this FIFA date. I think we will play we are used to. For beginners it will be more difficult, but nothing can be done.
- You have announced that Tynan and Leo won't be playing. Could you explain the reason?
- Leo cannot fly from Brazil. By the time he arrives, the game would have been over. Tynan also has matches in the championship and it is not easy for him to get here. He could have arrived on the day of the game at seven in the morning, but we do not see the need for this. Edson and Nurgozhin will not be playing because they are injured. There are other players who can play tomorrow. Everyone is waiting for their chance.
- Until the end of the year, the Kazakhstan national team may have other matches or will this year end with this match?
- Most likely, this match is the last one this year. There are no more FIFA dates for this year. The next one is only at the end of February - at the beginning of March. The calendar is very tight. If there are any invitations to play against our team outside the FIFA date, we will consider.
- Among the new players we see a young player of "Aktobe" Batyrkhan Kenzhegali. Will we see him on the pitch tomorrow? How do you assess his prospects?
- If he's here, that's a big advance for him. Whether he will play tomorrow or not, I do not know, but at least I have the desire to release it. Actually, he's here for the future. In March, there will be qualifying matches for the UEFA Under-19 Championship. Since we don't have friendly matches, we don't have a full-fledged youth team, the least I can do to help the youth team is to invite a young player who plays well for his club. He is here, not because he deserved his game, but because he is 17 years old, we want him to see the atmosphere of the national team, and in the youth team he has already felt the pressure on himself. It is probably a dream for him to be next to such players as Higuita, Azat, Douglas.
- Several new teams have appeared in our championship this year. Will we see candidates for the national team among them, for example, from FC ''Ordabasy''?
- Unfortunately, not enough. So little that I can afford to invite a 17-year-old guy. This is not the Brazilian national team, where if you do not take one good football player and invite a 17-year-old player, they will tell you: "What are you doing?". We have a basic eight or nine players who play all the time. Either they are, or they are not. They do not influence the outcome. I want to have more players in the reserve, but, unfortunately, this is not the case yet. We search, we work, we change. The first call was one, the second call were others. Now a young man has come. I'll probably give everyone a chance. I think that in four years the team has gone through as many players as ever.
- Earlier, the young and promising player Zhomart Tokayev was invited to the national team.
- People have to prove their invitation to the national team by their game. I do not consider myself a stupid coach who would not take a player if he was needed.