FC 'Astana' Win 2019 Kazakhstan Super Cup!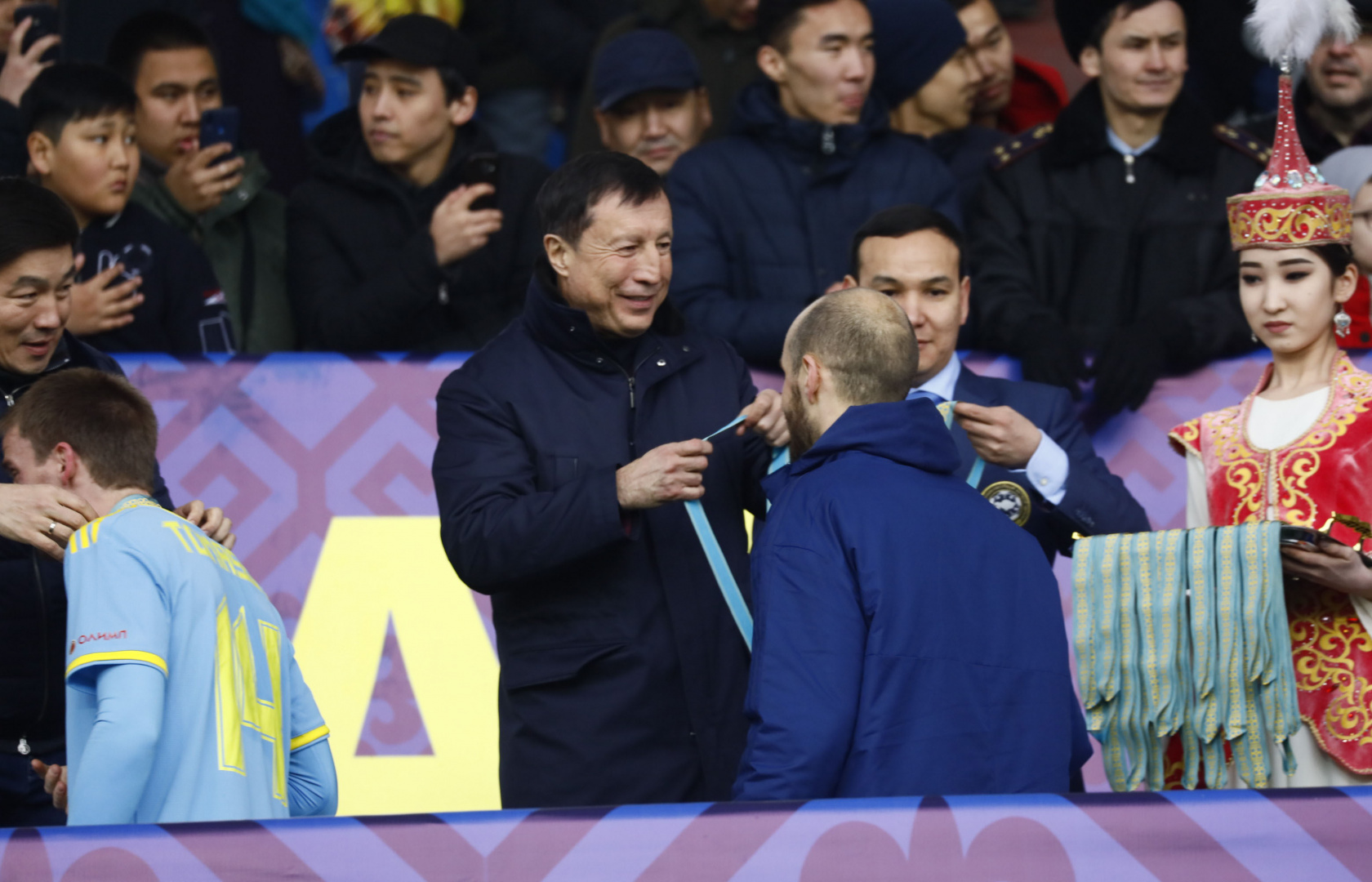 In the 7th minute of the first half, the Croatian midfielder, Marin Tomasov, passed to Junior Kabananga who managed to open the scoring.
In the second half, Kabananga again took advantage of the error by 'Kairat' defence and from outside the penalty area rifled the ball into the top corner of the net.
The match ended with - 2:0. The capital 'Astana' won the 2019 Kazakhstan Super Cup.
The President of the Kazakhstan Football Federation Adilbek Jaxybekov, KFF General Secretary Azamat Aytkhozhin, President of the Professional Football League of Kazakhstan Oljas Abraev and Almaty akim Bauyrzhan Baybek took part in the award ceremony.
Astana vs Kairat - 2:0 (1:0)
Goals: Junior Kabananga 7, 65
Yellow cards: Abzal Beisebekov 45, Evgeny Postnikov 56 - Dino Mikanovich 57, Islambek Kuat 61
Removal: Aderinsola Eseola 85
Astana: Nenad Eric (g) - Abzal Beysebekov (Dmitri Shomko 46), Marin Anicic, Yevgeni Postnikov, Antonio Rukavina - Ivan Maevski, Yuri Logvinenko, Dorin Rotary (Yuri Pertsukh 90 + 3) - Marin Tomasov, Roman Murtazaev, Junior Kabananga (Ranghelo Yang 80).
Reserve: Stanislav Pavlov (g), Danil Podymsky (g), Luka Shimunovich, Serikzhan Muzhikov, Sergey Khizhnichenko, Vladislav Prokopenko.
Head coach: Roman Hryhorchuk
Kairat: Stas Pokatilov (g) - Yan Vorogovskiy, Eldos Akhmetov (Sergei Keiler 71), Rade Dugalich, Dino Mikanovic - Islambek Kuat, Aibol Abiken (Ramazan Orazov 50), Konrad Vrzheschinsky, Jong-Vu Khan (Erkebulan Tungyshbaev 64), Vyacheslav Shvyrev - Aderinsola Eseola.
Reserve: Vladimir Plotnikov (g), Danil Ustimenko (B), Alexandr Sokolenko, Georgy Zhukov, Rifat Nurmugamet, Marton Eppel.
Head coach: Alexey Shpilevsky
Main referee: Igor Chesnokov (Ust-Kamenogorsk) Assistant referees: Aydin Tasybayev (Pavlodar), Ilashbek Orunbayev (Shymkent). Additional assistant referees: Bagdat Abdullaev (Karatau), Bulat Sariev (Uralsk). Fourth official: Rustam Beyzhanov (Petropavlovsk).
March 3, 2019. Almaty Central Stadium. 16,000 viewers.