Michal Bilek: 'There are no players of Astana, Ordabasy or Kairat, there is one team - Kazakhstan'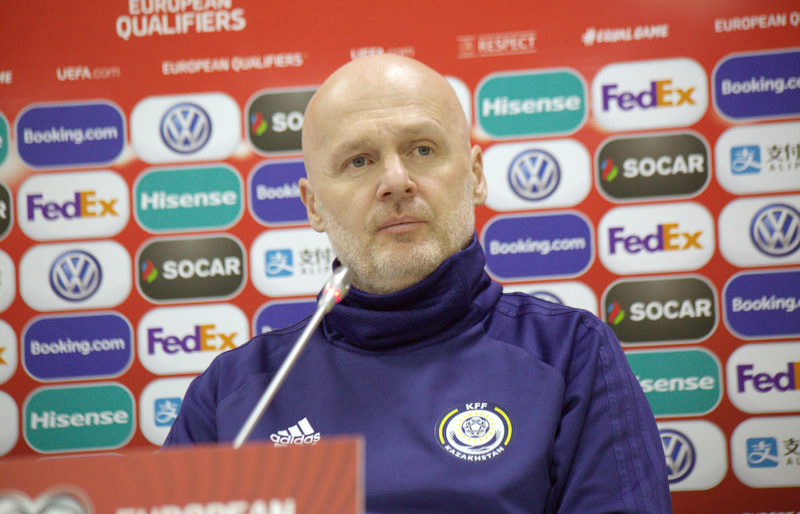 - How does Temirlan Erlanov feel?
- After the previous match, he trained individually. Today we will see how he feels.
- Definetely you watched the match Belgium vs Russia. How do you plan to neutralize the attacking line of the opponent?
- Belgium has a very strong squad, the first team in the FIFA World Ranking. We watched this match and the matches of the Russia national team in the UEFA Nations League. Russia also performed well at the World Cup. They are difficult rivals for us. We know that the key players of the middle line will not play against us tomorrow.
- Michal, congratulations on your successful debut. In the Euro 2012, Czech Republic national team lost to Russia with 4:1, but after your team managed to qualify fot the playoffs. Will tomorrow's match be principled for you?
- I remember that defeat. We lost then, because the Russia team was very faster in attack. Tomorrow we will try to do our best and pay much attention to this fact.
- You are already two months in Kazakhstan. What do you think about football here?
- I saw a good team. In the national team there are no players of Astana, Ordabasy or Kairat. There is one team - Kazakhstan. The guys play well. In the match with Moldova, we have already seen a lot of new players.
- Is Yuriy Logvinenko ready for tomorrow's match?
- After the second round of the Kazakhstan Championship, Logvinenko got injury. He stayed with us and prepared individually. Yesterday he began to work out with us. After this training session, we will see if he can play.
- How does Dmitri Shomko feel?
- Dmitri Shomko is a good football player and we know his strong qualities. In the first match we gave a chance to Gafurzhan Suyumbayev. We will see later.
- Could you tell more about your goals for the UEFA Euro 2020?
- We are preparing for the game with Russia and do not want to get too far ahead. Our players know how to play against this team. Both teams will do everything to take three points. Many thanks to our fans, who support and believe in our team. Tomorrow we will be waiting for everyone.