San Marino (1:3) Kazakhstan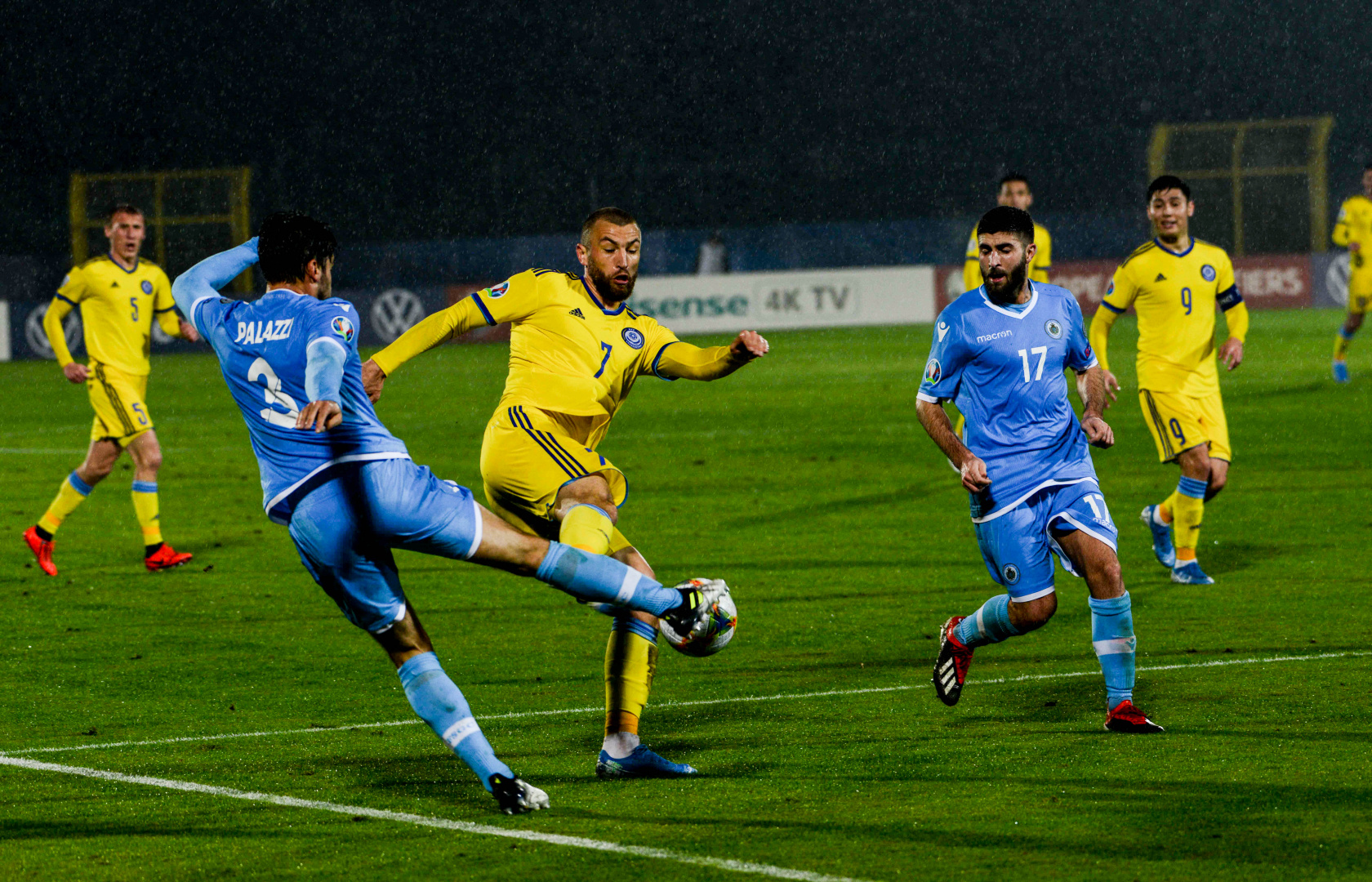 From the first minutes, Kazakhstan possessed the ball. In the 2nd minute, Baktiyer Zainutdinov could open the scoring, but the San Marino goalkeeper made a fantastic save.
In the 6th minute, Jan Vorogovskiy passed to Baktiyer Zainutdinov who scored a quick goal - 0:1.
In the 23rd minute, Gafurzhan Suyumbaev with a powerful shot scored the second goal.
Four minutes later, Bauyrzhan Islamkhan delivered a pinpoint cross for Alexei Shchetkin, who managed to put the ball into the net - 0:3.
In the 77 minute, the San Marino forward Filippo Berardi ran on to a long pass through the middle of the Kazakhstan defence and scored a goal.
San Marino - Kazakhstan - 1:3 (0:3)
Goals: Berardi 77 - Zainutdinov 6, Suyumbaev 23, Shchetkin 27.
Yellow cards: Palazzi 54, Simonchini 85, Ceccaroli 90 - Miroshnichenko 32, Tagybergen 44
San Marino: Benedettini (GK), Palazzi, Simoncini, Battistini, Grandoni (Ceccaroli 80), Brolly, Golinucci, E. Golinucci (Lunadei 60), Marcello Nicoloni, Jose Hirsch 64
Subs: Zavoli (GK), Simonchini (GK), Vitaioli, D'Addario, Gasperoni, Giardi, Censoni, Bernardi, Tomassini.
Head Coach - Franco Warrella
Kazakhstan: Nepogodov (GK), Marochkin, Malyy, Shomko, Vorogovskiy (Miroshnichenko 18), Kuat, Tagybergen (Fedin 65), Suyumbayev, Zainutdinov, Islamkhan (C) (Aimbetov 73)
Subs: Pokatilov (GK), Shatskiy (GK), Logvinenko, Erlanov, Alip, Kerimzhanov, Pertsukh, Abiken, Zhukov.
Head coach - Michal Bilek.
Referees: Ali Palabıyık (TUR), Mustafa Eyisoy (TUR), Serkan Olguncan (TUR), Mete Kalkavan (TUR)
16/11/2019. Serravalle, San Marino.