KFF signs memorandum of cooperation with UNICEF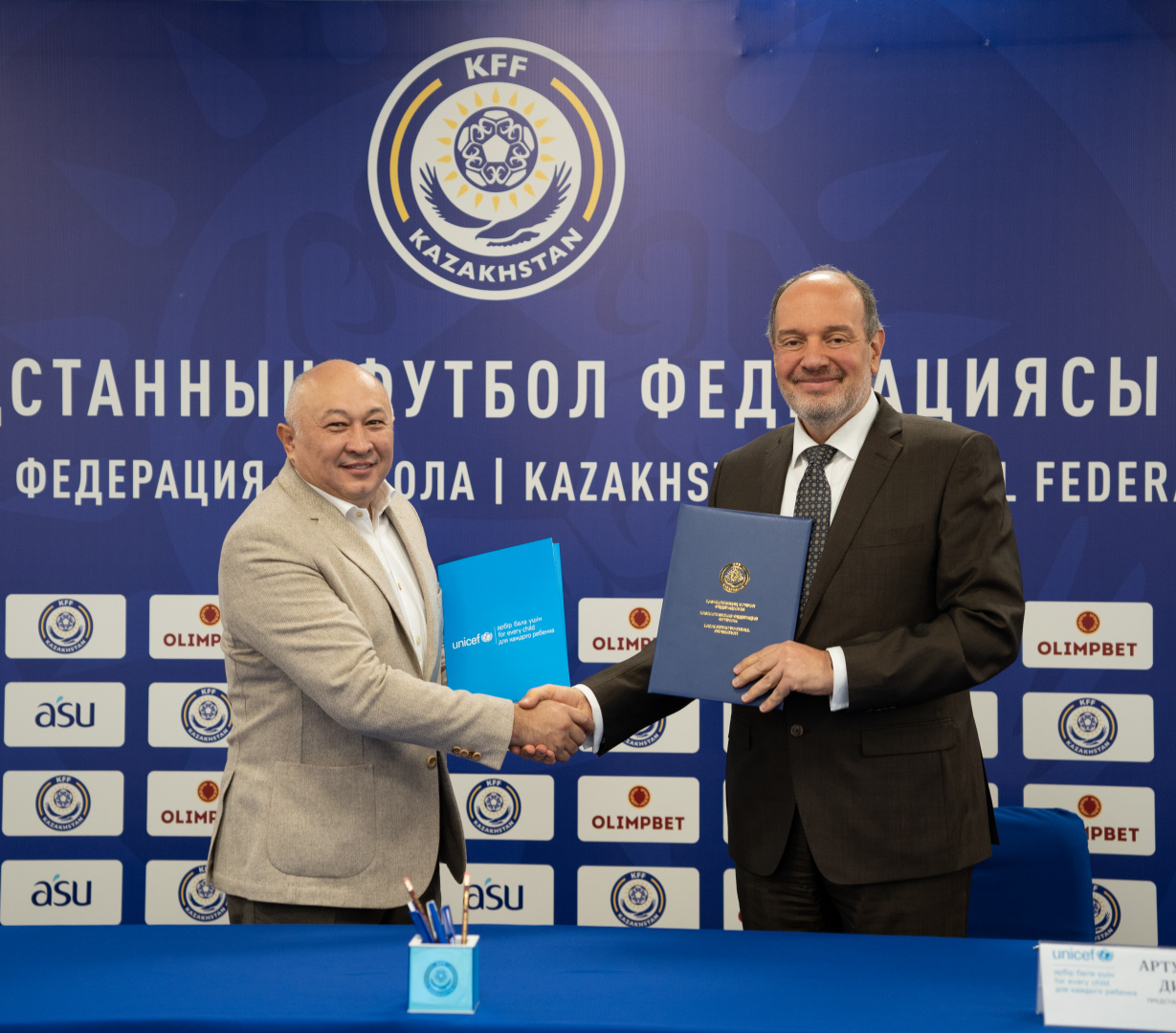 The Parties will encourage mutually beneficial cooperation, including holding joint events, promoting the participation of children and teenagers in competitions and matches organized and held by the KFF.
The memorandum was signed on the eve of World Children's Day, which is annually celebrated on November 20.
The parties will also cooperate on joint advocacy and outreach in the following areas: child protection, education, health and nutrition, inclusion and equality.
The KFF head emphasized the importance of partnership and joining forces with UNICEF to achieve significant progress in the interests of children and youth.
"It is a great honor for the Kazakhstan Football Federation to cooperate with such an authoritative international organization as UNICEF. We will make every effort to implement joint football projects. I am sure that our joint work will open up new opportunities for developing the potential of children and adolescents through football, because football is the most popular sport, it carries the idea of ​​a healthy lifestyle, teamwork, and friendship. Playing sports, and, in particular, football, serve to distract young people from addictions and Internet addiction," added Adlet Nazarbayevich.
"This year, World Children's Day falls on the day the World Cup kicks off. This is a unique opportunity to be heard, reach a new audience and put children's issues first on a global scale. No matter which team we support at the World Cup, when it comes to children's rights, we are all on the same team. In a world where division is ingrained in our lives, football has the power to unite like nothing else. Therefore, I hope that cooperation with the Kazakhstan Football Federation will be the beginning of big and important things for every child in Kazakhstan," said Arthur van Diesen.
It is worth noting that before the final game of the OLIMPBET-Cup of Kazakhstan between the Ural Akzhayik and Shymkent Ordabasy, the Kazakhstan Football Federation, together with UNICEF and the Professional Football League of Kazakhstan, will hold an action aimed at drawing public attention to the problems of socially vulnerable children.
With the participation of young children of the capital, who are members of UNICEF programs for the development of children, the players of Akzhaiyk and Ordabasy will enter the field during the most important match of the outgoing season.
We would like to remind that 2022 was declared by the President of the Republic of Kazakhstan Kassym-Jomart Tokayev as the Year of Children.
The development and happy childhood of the younger generation is our national task.
UNICEF works to ensure the rights and well-being of every child. Together with its partners, UNICEF is working in 190 countries and territories around the world to make its commitments a reality, with a particular focus on reaching the most disadvantaged and excluded children; for the benefit of children, in the whole world.