Kazakhstan Let Victory Slip Away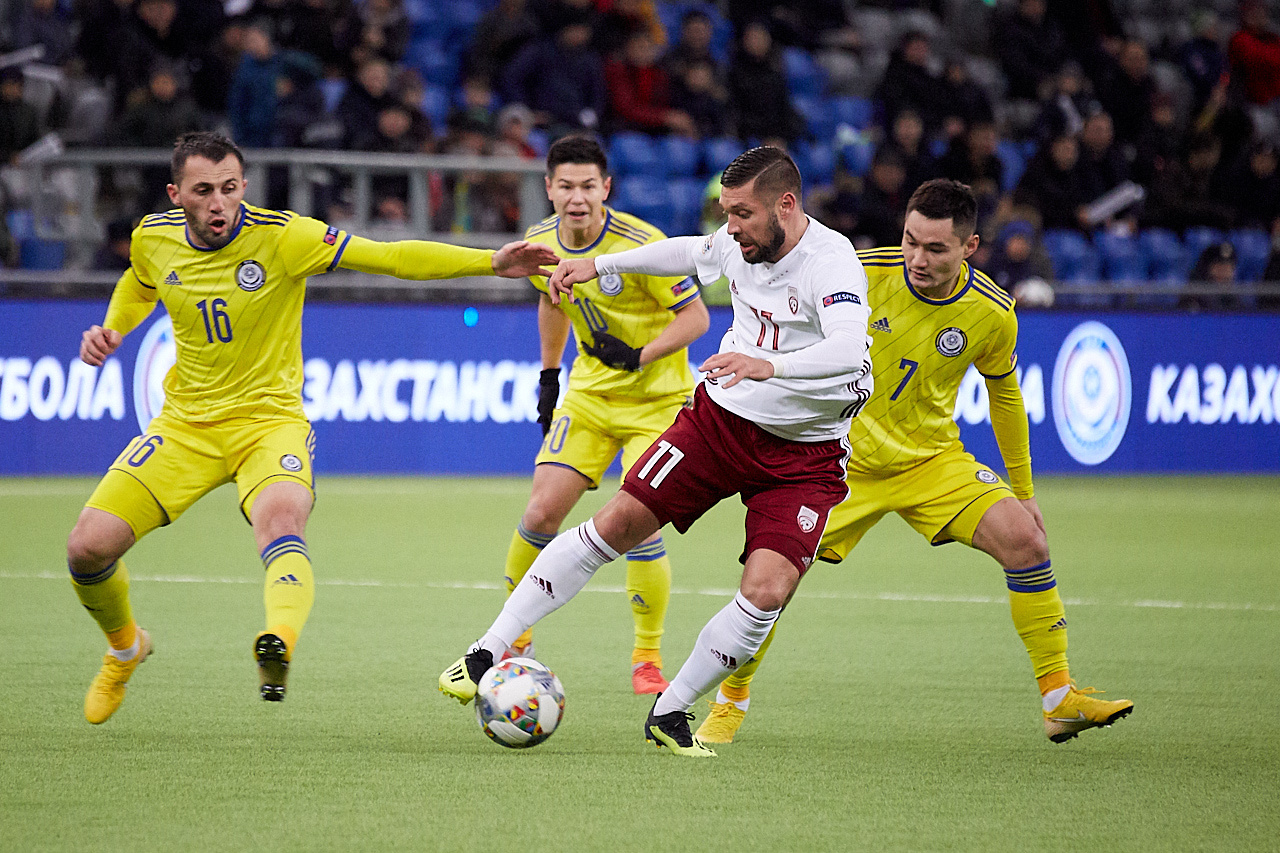 From the first minutes of the match, Kazakhstan took the lead. In the second minute, Suyumbayev kicked from the middle distance, but failed to score. After Valeris Shabala from the Latvia team kicked from the corner of the penalty area, but the ball flew higher.
In the 14th minute, Islamkhan had a good chance to score the first goal, but also failed.
In the 23rd minute, Islamkhan almost managed to score, but the experienced goalkeeper of his rivals Vanins saved his goals.
In the 37th minute, the defender of the Kazakhstan team Gafurzhan Suyumbayev scored the first goal into the far corner of the rivals' goal. The first half ended with the score 1:0.
The second half began with the goal of the Latvia national team. In the 55th minute, Bauyrzhan Turysbek could have scored the second goal.
The match ended with - 1:1.
Kazakhstan - Latvia - 1:1 (1:0)
Goals: Gafurzhan Suyumbayev 37 - Denis Rakels 48
Kazakhstan: Nenad Eric (gk) - Gafurzhan Suyumbaev, Serhiy Malyi, Yury Logvinenko, Abskahbrah Podshbekov, Georgy Zhukov, Bauyrzhan Islamkhan (c), Serikzhan Muzhikov, Baktiyar Zaynutdinov (Yerkebulan Tungyshbayev 87), Roman Murtazaev (Maksim Fedin 80), Bauyrzhan Turysbek (Aleksey Shchotkin 74).
Reserve: Vladimir Plotnikov (gk), Dmitro Nepogodov (gk) - Dmitry Miroshnichenko, Aleksander Marochkin, Temirlan Erlanov, Islambek Kuat, Duman Narzildaev, Yuri Pertsukh, Oralkhan Omirtaev.
Head Coach - Stanimir Stoilov
Latvia: Andris Vanins (gk) (c) - Vitalis Maksimenko, Kaspars Dubra, Vladislavs Gabovs, Valeris Shabala (Davis Ikaunieks 72), Arthur Karashauks (Ritvars Rugins 62), Vyacheslavs Isaevs, Andrejs Tsyganiks (Roberts Savnalius 46), Denis Rakels, Igor Tarasovs, Vitalijs Yagodinskis.
Reserve: Kaspars Ikstens (V), Pavels Steinbors (V) - Antonis Chernomordis, Antons Kurakins, Alexis Savelievs, Marcis Oshs, Vadims Zhulevs, Roberts Uldrikis.
Head coach - Mixu Paatelainen
Referees: Jens Moe, Lars Hummelgor, Heine Sørensen. Jørgen Burchardt, Morten Krog.
15.11.2018. Astana. ''Astana Arena'' Stadium. 21 463 spectators.