Michal Bilek: 'I think tomorrow there will be a good atmosphere in the stadium and a good match'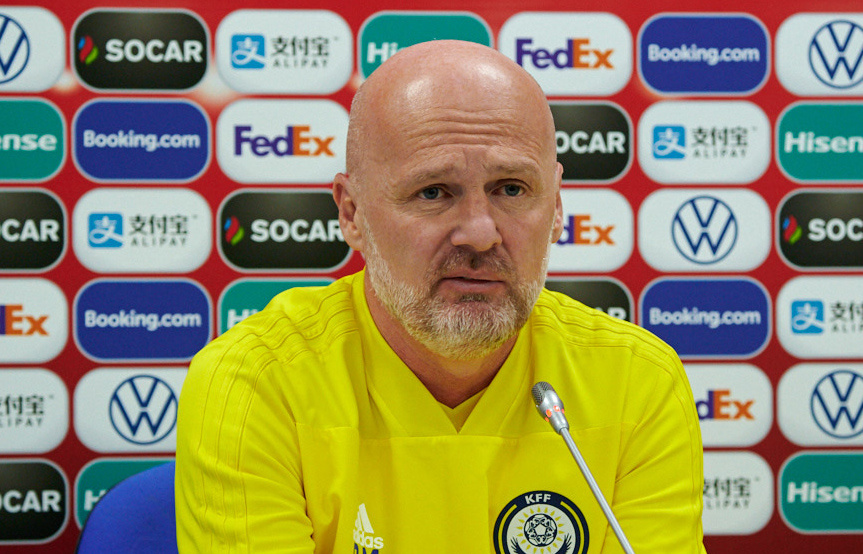 - What conclusions were made after the game against Cyprus?
- It is a pity that we did not get points. I think that there were moments where both we and the rivals made mistakes. Now we have a big rival. We have already played with them, and we know their level. We are determined to have a good match.
- Kuat will not play in tomorrow's match. Who will substitute him?
- I already know the starting line-up for tomorrow, but have not informed the team yet. I also want to say that Temirlan Erlanov fell ill after the match against Cyprus and will not be playing tomorrow.
- Belgium has already reached the final of the European Championship. Does this fact give hope to Kazakhstan, given the possible loss of motivation among the Belgians?
- It is possible that the main players will not be playing tomorrow, and their coach will give a chance to players who play not so often. However, their subs players also have high quality level.
- In the previous match, Khizhnichenko was the only forward. Kazakhstan has no particular choice of forwards. Who do think will be able to help the team in this issue?
- We knew that we had this problem. Shchetkin and Aimbetov were seriously injured, and could not help us. We knew that Khizhnichenko has played only a few games recently. If we talk about his skills, he is similar to Shchetkin, and this is one of the reasons why we chose it. Who will be called up to the national team in the future will be decided in 5-6 weeks. It is important to note that this is a great chance for all attackers from Kazakhstan who are in good shape and score goals. The doors of our team are always open for them.
- In previous matches, Vorogovskiy has not played well. Don't you think that Beisebekov outperform him at the moment, given his European experience.
- Yes, he did not realize his moment from a very good situation. The second goal conceded was his mistake, but if he had scored then he would have become the hero of the match.
- What is more annoying - the problems with forwards, or the fact that Belgium conceded only one goal in the current tournament?
- I already spoke about the level of our opponent. They scored the most, and missed only once. We do not want to play defensively. We will play fast counterattacks. Not every day you play with the best team in the world. I think there will be a good atmosphere in the stadium and a good match.