Kazakhstan U17 Beat Moldova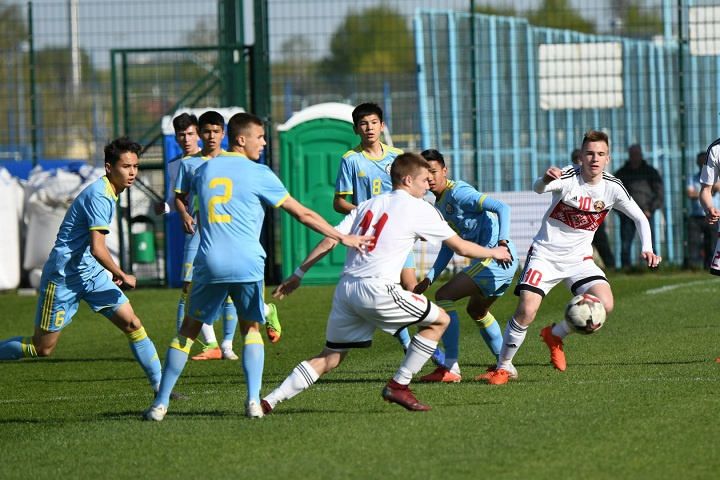 The Kazakhstan team coached by Almas Kulshinbayev won (4:3) in the penalty shootout.
Kazakhstan U17 - Moldova U17 - 0:0 (0:0). Pen. (4:3)
Penalty shoot-out: Roman Skurtul (0:1), Zhannur Kukeev (0:1), Alexandru Geu (0:1), Alexander Shirobokov (1:1), Sozin Kele (1:1), Dias Kushkunbaev (2:1) , Vladislav Zavalishka (2:2), Roman Chirkov (3:2), Vasily Vlas (3:3), Aslan Kenes (4:3)
Yellow cards: Shirobokov 57
Kazakhstan U17: Pivkin (gk), Somov, Shirobokov, Azatov (Tashmetov 41), Tkachenko (c), (Abilov 73), Rakhymzhanov (Kukiev 67), Toleukhanov (Chirkov 41 ), Kenzhebek (Lavrenyuk), Satyshev, Konchiev (Kushkunbaev 56), Kalau (Kenes 73)
Subs: Temirlan Anarbekov (gk), Shyngys Dikhan, Nurtas Imangaliev
Senior coach - Almas Kulsinbayev
Moldova U17: Savochka (Filipov 80), Zavalishka (c), Andritski, Bulmaga, Skurtul, Staver (Vlas 51), Kovalchuk (Vlas 51), Lavrik (Geu 46 ), Karazanu (Botnari 46), Kele, Pogreban (Doska 51)
Subs: Stegoretsku, Mishkov, Gatman.
Senior coach - Alexandru Guzun
02.05.2019. Minsk, Belarus.
On May 4th, Kazakhstan plays against the team of Solomon Islands.
The UEFA Development Cup tournament is one of the stages of preparing the junior national team of Kazakhstan under 17 years for the 2019/2020 European Championship qualifying tournament that starts this autumn. Recall that the Kazakhstan U-17 team got in one group with the national teams of Germany, Azerbaijan and Greece. The qualifying matches will be held from 13 to 19 November 2019 in Greece.