Kazakhstan U-17 Loses To Belarus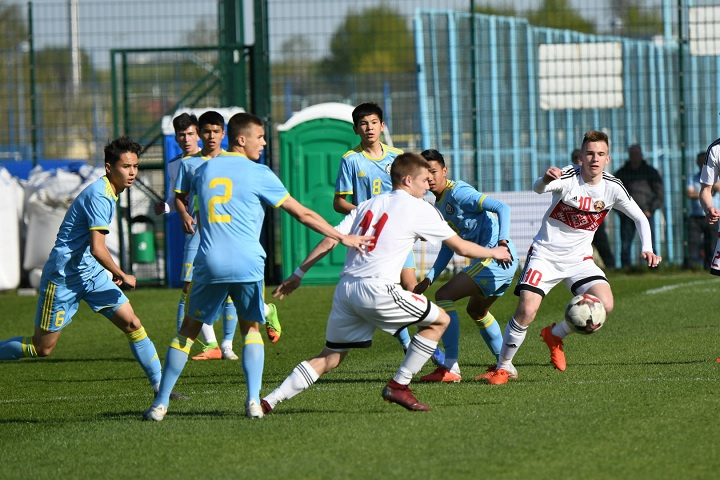 Our team lost to the hosts of the tournament with 0:2. Arseny Galushko and Yuli Kuznetsov scored goals in the national team of Belarus.

Belarus U-17 vs Kazakhstan U-17 - 2:0 (2:0)

Goals: Arseny Galushko 14, Yuli Kuznetsov 35.

Yellow cards: Artem Brui 43, Ivan Zenkov 60.

Belarus U-17: Andrei Kudravets (gk), Egor Parkhomenko, Artem Brui (Vladislav Belyaev 66), Vitaly Urbanovich (Roman Marchuk 66), Arseny Galushko (Maxim Belobrovik 57), Yuli Kuznetsov, Ilya Moskalenchik (Egor Karpitsky 71), Kirill Zinovich (c) (Fedor Lebedev 66), Fedor Yurkevich (Valentin Dikhtievsky 41), Dmitry Nizhnik (Ivan Zenkov 57), Yegor Shedko (Maxim Kunsky 57).

Subs: Andrey Ignatevich (gk).

Senior coach - Andrey Skorobogatko

Kazakhstan U-17: Nikita Pivkin (gk), Alexander Shirobokov, Arsen Azatov (Suleiman Abilov 71), Yegor Tkachenko (c), Zhannur Kukeev (Danil Somov 35), Kirill Lavrenyuk (Abzal Kalaubek 41), Galymzhan Kenzhebek (Nurgheldi Toleukhanov 57 ), Shyngys Dikhan, Ruslan Tashmetov (Alisher Rakhymzhanov 41), Aslan Kenes (Dias Kushkunbaev 35), Aset Konchiev (Roman Chirkov 71).

Subs: Temirlan Anarbekov (gk), Askar Satyshev, Nurtas Imangaliev.

Senior coach - Almas Kulsinbayev

30.04.2019. Minsk, Belarus

The Kazakhstan junior team under-17 years old play the next match on May 2 against their peers from Moldova.